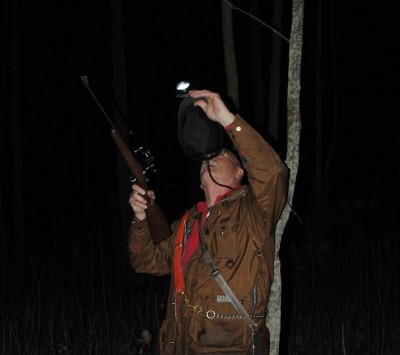 Jim Zimmerman acknowledges that most of the guys he takes hunting don't get it at all. "Most people think I'm crazy," said Zimmerman, a 61-year-old recent retiree who hunts mostly in Gratiot County, not far from his home. "I have a lot of people who say, 'I'd like to go some time,' and I take 'em and within 15 minutes they're ready to go home." Did I mention Zimmerman's a raccoon hunter? That explains it. "It's cold, you're tripping over things, getting scratched up and poked in the eye, and they say, 'You call this fun?' " Indeed, raccoon...
The passage of the first cool front of fall is an annual reminder that I need to look in the freezer and determine how much wild game remains. After the inventory is completed, it's time to make plans to do either a little or a lot of cooking. Sometimes I enlist a little help from my friends, one of whom happens to be David Holloway, the Food Editor for the
Press-Register
in Mobile, Alabama. Holloway readily admits that he's not the best hunter, but he does do a heck of a job of preparing any wild game with his native Louisiana flair. "I've said it before and it...
Just a few short weeks ago, I was on a pronghorn hunt in New Mexico filming for a new outdoor television show that I will co-host with Kenneth Tallent for 2014,
Double Lung Outdoors TV
. A chain of events---including a helicopter crash---during this trip has changed my life. I arrived at the airport in Amarillo, Texas on August 23, where Kenneth Tallent and Johnny Kennedy, who had been traveling from McKinney were waiting to pick me up for the beginning of yet another adventure. This time we would be hunting pronghorn antelope and prairie dogs...
My heart beat out of control as I spun the old GMC around in the gravel road, the click-clack of rocks hitting the frame beneath my feet. At first I thought I hadn't seen it, but glancing in the rearview mirror as I sped away,...
Read More »
My heart beat out of control as I spun the old GMC around in the gravel road, the click-clack of rocks hitting the frame beneath my feet. At first I thought I hadn't seen it, but glancing in the rearview mirror as I sped away,...
Read More »
Every creature that moves on the planet leaves a mark of its passing, regardless of how subtle its movements are or what type of surface it travels upon. From the little footprint of the Bushman in the heart of the Kalahari Desert, to the lug...
Read More »
While refilling our bird feeders last week, I noticed a golf-ball sized hole in the mesh bag holding the suet, which is actually about 10 pounds of fat I carved from a deer's rump in late November.
I've never known nuthatches, chickadees, or woodpeckers to punch holes in a suet bag. Why would they bother? It's mesh. I studied the bag, but its tattered hole held no clues. All I saw were gouges, scratches and needle holes in the fat where beaks once probed.
The mystery ended the next morning as I watched the feeders from our kitchen window while washing breakfast bowls. Something moved atop the suet bag. A small squirrel with a copper-orange back was gnawing on the fat, its head poking through the hole in the mesh.
Wow. A red squirrel. Or as some folks call it, a pine squirrel. There's no mistaking one. Besides its wee frame and copper backside, a red squirrel's dark eyes are uniquely fringed by a thin circle of white fur.
But they're uncommon around our home in central Wisconsin. In 20 years of feeding birds here, we've seen two red squirrels. In contrast, I've seen plenty of red squirrels the past 40-plus years when hunting the coniferous forests of the upper Great Lakes and Rocky Mountains.
Even so, I'd never before seen a red squirrel eating fat and meat scraps. And he wasn't just swiping samples like freeloaders circling a grocer's cheese plate. No, it was digging and clawing into the frozen fat, hopping to the branch above, licking its paws clean, and then diving back into its chew-hole for more.
I sought confirmation by calling Professor Scott Craven, the University of Wisconsin-Madison's venerable answer-man for all things mammal. Craven assured me I wasn't seeing things. He said all tree squirrels eat some meat, such as when stumbling across big insects, bird eggs, nestlings, or the babies of small mammals.
But red squirrels eat more meat than fox or gray squirrels. They're also the most aggressive of the three, despite being the smallest, measuring 11 to 13 inches nose to tail-tip. If a gray or fox squirrel is on a bird feeder when a red squirrel arrives, the mighty mite runs them off.
Even so, don't believe that wives' tale about red squirrels castrating gray or fox squirrel males in territorial spats. The bigger squirrels can backhand little Napoleon if pushed too far.
Craven also confirmed it's unusual to see red squirrels in my area, but not rare. After all, Wisconsin might be the southern edge of the red squirrel's range, but they're found from Alaska to Labrador, and from river bottoms to Rocky Mountain peaks.
In the Great Lakes region, they're most abundant in the northern forests, especially those dominated by pine, spruce and fir. They also frequently inhabit the river corridors and long stretches of remote shorelines on the Great Lakes themselves.
Among the red squirrel's charms is its bold, curious nature. They often crash our Idaho elk camp to filch peanuts a few feet from where we sit. And if we return to camp and can't find a snap-on lid for a favorite cup, we follow the log where we last laid it. Experience teaches us that chewed lids wait wherever red squirrels lose interest and drop them.
They aren't so patient or tolerant when we invade their workspace, however. They start chattering and stamping their feet the second they see us, never believing our intentions are good. And no matter how quiet and respectful our pleas for peace, they slur our wives and curse our names until we move on.
Sheesh. You'd understand their attitude if you had refused them handouts during snack breaks, or raided their middens of green cones cut from Douglas firs and lodgepole pines. But eventually you realize it's nothing personal. Red squirrels heckle everyone.
Still, you wouldn't be human if you didn't occasionally give one the stink-eye and wonder: Could I hit that little jerk with my arrow? If so, how would he taste? Could I sell his pelt and tail?
I've eaten plenty of gray squirrels and fox squirrels, but never a red squirrel, though they probably hold as much meat as chicken wings. And their tails and hides aren't worthless. In fact, Sheldon's Inc. in Antigo, Wisconsin, makers of Mepps fishing lures, pays 8 cents each for red squirrel tail if hairs at the base measure an inch or more (tails from gray squirrels and fox squirrels fetch 16 to 20 cents each).
And believe it or not, some Northwoods and Canadian trappers collect their pelts, which fetch about $1.50 each but get as much as $2.75 some years at fur auctions. As one trapper-friend notes, they're about the size of weasels–or ermine–so there's precedence.
Their end use? Red squirrel pelts line the interiors of some leather jackets and London Fog raincoats. They can also be fashioned into cravats for gentlemen. In fact, red squirrels were hunted so commonly in ancient Finland that their pelts were used as currency before Finns discovered coins.
But for the most part, red squirrels face few threats from hunters and trappers; at least those with two legs. Owls, hawks, and kestrels prey on them, as do most four-legged predators, especially pine martens. As Craven says, what fishers are to porcupines, martens are to red squirrels.
States like Wisconsin have few martens, of course, but I've seen them hunting during deer hunts in northeastern Minnesota and elk in southeastern Idaho. But I certainly see no martens around Waupaca. We do see plenty of roaming cats, however. But judging by the red squirrel's alert, energetic nature, I doubt they're easy prey.
That is, unless their heads are shoved too deeply into suet bags.
Read and join the discussion on Red Squirrels: Profile of a Feisty Small Game Species at OutdoorHub.com.
Hello all, in the previous blog I indicated that I would talk about Toxoplasma gondii and Trichinella spp. in feral pigs. However, recently two rabbit hunters in eastern North Carolina tested positive for tularemia so I decided to address the current event first.
Rabbit hunting is a fantastic hunting experience and I fondly remember many days hunting rabbits with friends and family in northern Indiana. There are many reasons that I enjoy rabbit hunting. First, hunting rabbits can be as simple as walking a field, fencerow, or edge by yourself or with a friend or two. Second, you can wander through the field systematically or haphazardly. Third, you can increase the experience and excitement by working a thick briar patch with a pack of beagles and four or five close friends. Fourth, you can hunt rabbits anytime of the day–you do not have to get up at o'dark thirty. I am sure you have additional reasons that you enjoy rabbit hunting and I would love to hear them. Nevertheless, the excitement when a rabbit breaks cover is hard to beat.
Tularemia is often called rabbit fever, deer fly fever, meat-cutter's disease, Ohara disease, and Francis disease. It is a zoonotic (can be passed from wildlife to humans) disease caused by the bacterium Francisella tularensis. Francisella tularensis naturally occurs in the environment, can survive in water and soil for weeks, and is common in rabbits, hares, and rodents. In fact, tularemia has been documented in over 150 wildlife species and is responsible for killing large numbers of wild animals. Tularemia occurs primarily in the Northern Hemisphere and has been reported throughout North America, Europe, Asia, northern Africa, and the Middle East, and recently a case was reported in Australia. In the United States, approximately 200 human cases are reported each year with reports from every state except Hawaii.
In rabbits, the symptoms include a white- or yellow-spotted liver and the liver and/or spleen may be a dark bluish-red and appear very swollen. Additionally, you may notice external ulcerations or infected areas where the animal was bitten by a tick or deer fly.
Humans most commonly become infected through skin contact with infected animals (e.g., rabbits), ticks, deer flies, bites from infected cats, eating improperly cooked meat, drinking contaminated water, or inhaling airborne bacteria. In the United States, rabbits are the source of infection in 90 percent of the cases, 70 percent of which comes from the cottontail rabbit genus Sylvilagus (16 species in this genus are recognized worldwide).
The incubation period for tularemia in humans is usually three to five days after exposure but can range from one to 14 days. The signs and symptoms depend on mode of exposure. Possible symptoms include skin ulcers and rashes, swollen and painful lymph nodes, inflamed eyes, sore throat, mouth sores, diarrhea, or pneumonia. If inhaled, symptoms can include fever, chills, headache, muscle aches, joint pain, dry cough, and progressive weakness. People with pneumonia can develop chest pain, difficulty breathing, bloody sputum, and respiratory failure. Tularemia can be fatal if not treated with appropriate antibiotics.
Last week, I provided some simple recommendations for hunters who clean feral pigs. Many of the recommendations are the same for rabbits. Hunters should always wear long sleeves, gloves, and eye protection when cleaning any game animal. After cleaning the animal, clean and disinfect all knives, clothing, or cleaning surfaces and absolutely make sure to wash your hands and forearms frequently and carefully with soap and water. Additionally, avoid drinking unfiltered or unclean water from streams and rivers. Insect repellents containing DEET have been shown to help prevent tularemia.
Hunters should avoid eating rabbits that appear in the field to be "lazy" or do not act "normal." During the cleaning process, be sure to wear gloves, and hunters should examine the external surfaces of the rabbit for any infected areas. ALWAYS check the liver for the appearance of white or yellow spots. Even if the liver appears bright, does not have spots, and the rabbit appeared healthy in the field, make sure to cook the meat thoroughly; F. tularensis are killed by heat above 160 F.
As always, as long as these proper precautions are taken there is no reason not to enjoy your favorite fried or braised rabbit or hasenpfeffer.
Read and join the discussion on Rabbit Hunters Take Note: Steps to Avoid Tularemia at OutdoorHub.com.
The eye contact with the frantic gray squirrel seemed frozen in time. The squirrel had been knocked from his perch in a scaly bark hickory by one of the youths participating in the 16th annual Barbour County WMA Youth Hunt last weekend. The bushy-tailed critter was looking for cover when he latched onto the side of a lay-down, a tree that had succumbed to some wind storm in the not-too-distant past.
Armed with only a camera and dressed in a camouflage shirt, I stood on the opposite side of the log, well within leaping distance. That moment of eye contact led to a flood of possibilities in my brain as Ray Stevens cranked up "Mississippi Squirrel Revival" in the background. Option 1: The squirrel is going to mistake my camouflage for an escape route in a scene reminiscent of "A Christmas Vacation." Had it leaped in my direction, I'm sure I would have done my best Clark Griswold impression, the one where he knocks his mother onto the couch as he flees up the stairs.
Alas, I caught a break and the squirrel took Option 2 and scurried under the log and into a hole that was at the base of the uprooted tree.
Mike Smith, whose Feist dog "Freeway" led the hunt, figured the hunt was over, but this group of about 20 youths and accompanying parents and hosts was persistent on a day when squirrels were scarce. One person volunteered to don a glove and reach into the hole to find the squirrel, but his search came up empty-handed. A second tried to no avail.
That's when Cody Lee, a long and lanky teenager, reached his gloved hand into the hole. Seconds later, he screamed, "There he is," and in the same breath slung glove, squirrel and a handful of leaves out into the middle of the group that crowded around the root ball.
"The squirrel was hanging on the ceiling of the hole," Lee said. "When I touched him, he grabbed my arm, so I had to come outta there with him."
The youngsters swarmed the squirrel in a flash. By the time I got to the middle of the crowd, the squirrel had apparently given up the ghost after realizing escape was impossible.
The youngsters celebrated success as the adults in the crowd shook their heads laughingly at such a spectacle in the middle of one of Alabama's most popular Wildlife Management Areas (WMAs).
Freeway managed to tree one more squirrel that was reduced to bag before the afternoon hunt ended and it was time to meet back at the WMA headquarters for another round of hot dogs and chips, which preceded the final event of the day of outdoors activities – a coon hunt.
The Eufaula Lions Club, Barbour County Coon Hunters Association and Alabama Department of Conservation and Natural Resources' Wildlife and Freshwater Fisheries Division are the major sponsors of the youth hunt, which attracts youngsters and parents from mainly east Alabama, although some participants hail from other parts of the state.
The youth hunt idea was hatched when Mike Heath and Richard Reed, game wardens at the time, starting trying to find a way to get the younger generation involved in the outdoors. They recruited Roger and Pat Kott from Eufaula and the event quickly went from a handful of kids to a huge production that requires a concerted effort from the community in terms of volunteers and donations.
"We started with 17 kids," Pat Kott said. "We try to go deeper into different events and different venues each year, and it's just blossomed from there. We wanted to get the kids outdoors to teach them gun safety and teach them what's in the woods and how to conserve our woods. The word just spread. We have fliers and sponsors, but it basically spread by word of mouth. We'll normally have between 250-300 kids now."
The activities for the kids include BB-gun competition, slingshot shoot, archery, turkey calling and turkey shoot, compass reading, wilderness survival, skeet shooting with gun safety, .22-caliber rifle shooting for the older youngsters, squirrel hunting, rabbit hunting and coon hunting.
"The kids love it and can hardly wait to get here," Pat said. "It's great to see their eyes when they're doing the different things, and when they're squirrel hunting, if they get one, they'll take the squirrel around with them the rest of the day and take it to momma that night. It's just wonderful."
Reed said the youth hunt team has had to adjust the activities through the years, especially after an incident during the coon hunt the second year.
"We had the coon hunt and we had kids jumping into the creek with the coon and dogs," Reed laughed. "So we had to alter that a little bit. We stage it a little bit for safety purposes."
Reed said before he retired in 2007, he could see a decrease in the number of hunting licenses sold, which caused him great concern.
"When we saw those numbers slipping, we decided we needed to do something to get the kids involved again," he said. "We'll have 250-300 kids unless the weather is really bad. And the community is really behind it. All the merchants donate and help every way they can."
Grady Hartzog, a Eufaula businessman and member of the Alabama Conservation Advisory Board, joined Deputy Conservation Commissioner Curtis Jones and Wildlife and Freshwater Fisheries (WFF) Director Chuck Sykes to witness the celebration of the outdoors lifestyle.
"I always believe that if we don't have the kids coming to support conservation, we're not doing our jobs," Hartzog said. "The more we can do for the kids, the better off we are. We want this to be a good, fun outing for the family and kids so they'll want to come back out again."
Sykes, who became WFF director just two months ago, is encouraged by what he saw at the Barbour County WMA.
"You've got parents and kids out here having fun and picnicking, shooting BB guns, going on a rabbit hunt, a squirrel hunt and a coon hunt," Sykes said. "If you don't get the kids engaged, get them out from in front of a TV or video game and into the woods, we're going to lose our connection to the outdoors. Kids aren't growing up like I did with a BB gun and pocket full of BBs; you walked all day and explored the woods.
"This is great. I applaud everybody here for getting involved, and I applaud the parents for getting out on a beautiful Saturday and exposing their kids to the great outdoors."
Jones said he was impressed by how well the community supports the event each year with the encouragement of the Eufaula Lions Club and the Kott family.
"There is a ton of volunteers, and I'm proud that we've got several, several Conservation Enforcement Officers who are volunteering to take these kids through the various courses with BB guns, archery, and skeet," Jones said. "I'm just really grateful that this many people get involved to get the youth into the outdoors."
Heath said there are enough volunteers that parents aren't required to stay for the event.
"The parents can drop their kids off and we'll take care of them until 9 o'clock that night until we're completely done," Heath said. "Then they can come back and pick them up. We encourage all parents to come and go with the kids if at all possible. But if they can't, we have numbers of volunteers who will serve as mentors.
"We have a great time. I can't tell you how many thousands of kids this has touched. We've had some kids come back every year, and it's great to see these kids grow up in the outdoors."
Read and join the discussion on Success at Alabama's Barbour County Youth Hunt at OutdoorHub.com.
If there's an animal that's an emblem of Michigan winter, it might be the hare.
Varying hare, snowshoe hare, call it what you want. Just don't call it a rabbit, they're different species despite their similarity–hare are born with fur and with their eyes open, rabbits naked and eyes-shut.
In recent years, some have called it scarce, but the snowshoe hare's still out there for those who venture into thick cover, on deep snow, in silence broken most often by a baying dog, and occasionally by a barking rimfire rifle or booming shotgun.
Like its non-relative the rabbit, a hare will usually run a circle when pursued (a notable exception is late March, when breeding-minded males seem ready to flee the country entirely, sometimes leading to long hours searching for an errant dog).
When a beagle strikes a track, it leaves its human partners behind and follows the hare, bellowing as it goes, often moving at more a workman-like pace than the all-out pursuit many imagine.
Hunters take stands based on where they figure a returning hare will pass, often eyeing a trail or other opening. They double-check the position of their partners for safe shots. And, long before the dog returns, they strain their eyes for a ghost, a whiff of white with black eyes.
Sometimes the first movement they detect is the dog; the hare has slipped past undetected! Then it's time to wait out another roundabout, unless the hare finds a way to ditch the dog.
The varying hare matches its northern Michigan haunts by wearing brown fur through most of the year, changing to fluffier white fur to blend into the winter landscape, making it tougher for predators–hawks, owls, bobcats, and others, besides people–from seeing it.
White fur can't cover up tracks and scent, though. Beagles can smell hare tracks in snow, some handlers say they do best when it's topped by a bit of fresh powder.
People? Dogless, their only chance of putting a hare in the game bag is to walk a line of tracks. That, though, offers its own sport and satisfaction.
My friend, the late Gary Haske, loved to strap on military-surplus wooden-framed snowshoes and head into the Nine Mile Hill Swamp near St. Helen in mid-northern Lower Michigan.
Walk a spell there or in virtually any big chunk of land in the northern two thirds of the state, and one is likely to eventually trudge across a snowshoe hare track.
Moving slowly, Haske would shift his glance from the tracks at his feet to the middle distance, looking both at the line the tracks traced and into little pockets of cover where a hare might hide. In a party of hunters, one follows the track while others fan out on each side.
You'll seldom see an entire rabbit, at least at first. More often, it's an eye, nose, or ear that gives away a hare's hideaway.
More interested in adventure than a meal, Haske carried a .22 rifle. Others favor shotguns, with 20 gauge lightweights most popular.
Rifle or shotgun, behind a beagle or being your own dog, pursuit of a snowshoe hare is about as perfectly wintry a Michigan thing as you can do!
For more information on Michigan hunting go to michigan.org.
Read and join the discussion on The Pursuit: A Primer on Michigan Snowshoe Hare Hunting at OutdoorHub.com.